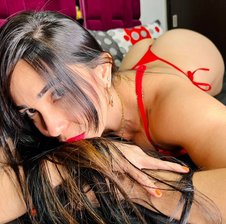 Aishapastran
Notificarme cuando esté en línea
Anclar modelo
Desanclar modelo
Esta modelo está
En línea
Fuera de línea
35, Sagitario, colombia, bucaramanga
Última sesión:
30/11/22 00:34:25
Enviar tokens
Hello guys..i´m so horney today and i want to play whith my lovers #fetish #feet #squirt #bigass #blowjob #lover i´d like to get my goal today 2000 TOKENS help me bby please
Detalles importantes de Aishapastran
| | |
| --- | --- |
| Género | Mujer |
| Preferencia sexual | Hetero |
| Edad | 35 |
| Altura | 160 cm - 170 cm |
| Peso | 63 - 70 kg |
| Cabello | Morena |
| Ojos | Marrón |
| Raza | Latina/Hispana |
| Idiomas | Español, Inglés |
| Procedencia | bucaramanga |
| Vello púbico | Afeitado |
| Busto | Grandes |
| Trasero | Grande |
Lo que me excita
my fantasy is to get naked while you watch me dance that you tell me I'm yours, that you make me laugh with tickles and we have dinner together I'm your lady and I'm also your bitch depends on what we want to imagine, I'm looking for that gentleman who makes me feel like your sexy girl My burning fantasy is that you see me masturbate and that your friends can see me, I like that they see me, it turns me on when you grab me by the hair and make me feel yours while I say your name in my orgasms, I want to be your saint sometimes and sometimes you devil and that you make me your slave and your submissive to always give you new pleasures, it excites me that you see me as I dress and deviate and that you see me with open legs showing my pink and wet pussy for you
Acerca de mí
I am a very sexy and sensual girl who loves gentlemen who make me feel hot and desired. I like to listen to soft music and have conversations and get to know my boy well to make him feel pleased. Excited to please your fantasies and know your fetishes and dark desires I would like to see you doing what you want with me
Lo que me apaga
I love the sexy lingerie I love that you see my ass and admire it I love licking my armpits and licking the dicks deeply I love that you make me feel wanted and cum rich while you see me I love see your face while you are turn on and tell me that i am yours
Lo que hago por webcam
Horas de trabajo de Aishapastran
Lista de deseos de Aishapastran
1

I would like to show you this beautiful lingerie especially in a show for you, do you dare to please me?
Leer más